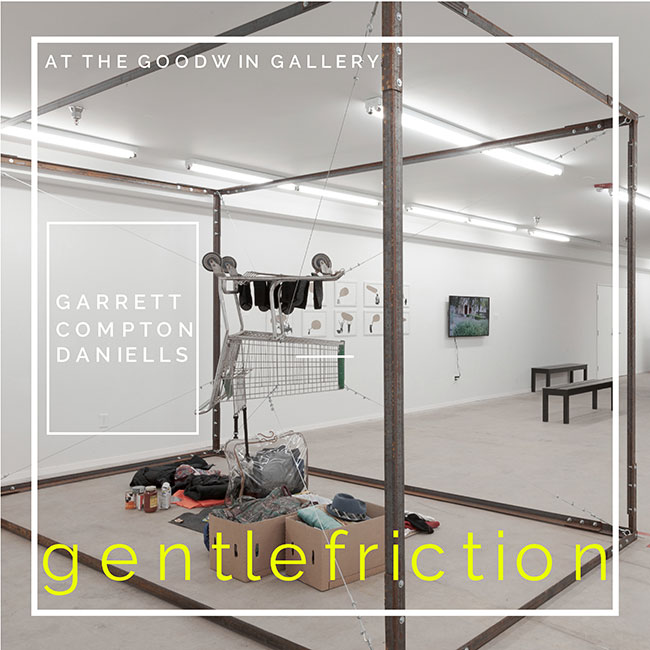 Garrett Compton Daniells
July 13, 2019 | 4:00-7:00pm
Garrett Compton Daniells was born and raised in Stockton, California and is currently based in Sacramento, California. Daniells is a multidisciplinary artist and works professionally as a fabricator and Gallery Technician with an emphasis in Neon art and signage installation. In 2016, Daniells was the recipient of the "Comet Award" from the Stockton Arts Commission for his work in the city promoting and organizing in the arts. Daniells has shown artwork at many venues, galleries, and pop-ups including the Reynolds Gallery at University of the Pacific and Axis Gallery at Verge Center for the Arts
Artist Statement
"gentlefriction" is a body of work about a place that is changing at a point in time and space. Eventually, this idea transcends the given place and references something that isn't just about Stockton, and perhaps turns inward to represent someone who is changing.

All places and people change. Some through the slow subtly of a vine creeping into the cracks between bricks that cause a home to decay, and some more suddenly like a brick being used to smash your window with no reference as to why this may have happened. No judgement can be made to an individual at the rate in which change will occur to them. One can only see that change is always occurring.

Through gestural and performative paintings, prints, and sculptures, as well as the subversion of objects, one can feel a tense and static nature, sometimes being held together by only a thread, while other times feeling entombed or lost in the density of concrete. Black enamel paint covers over once pristine reclaimed paintings while iron oxide reclaims steel being bound by cable and turnbuckles. Bright and known objects are obscured and cast into the sarcophagus of concrete, rendering them useless. A lifesize print of a place that exists as a testament to trauma and change in Stockton for some, looms over viewers like the shadows of the shady lanes of the Magnolia District and Yosemite Village.

This body of work is a time capsule of events and a time of deep change for the artist and contemporary life in Stockton. Growth and the pushback from that. Nourishment and the stresses that stop growth and the stifling nature of a place that isn't as nurturing as it is lofty in its goals for growth.