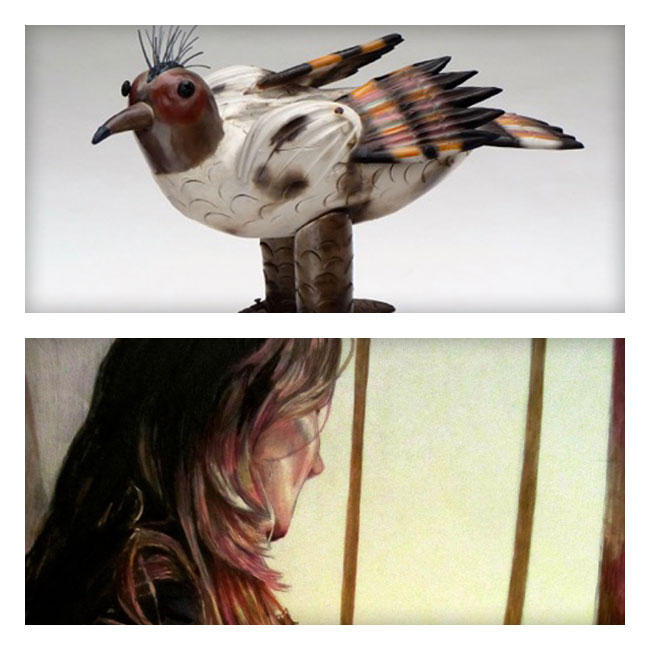 Joe Mariscal & Kelly Foley
August 10, 2019 | 4:00-7:00pm
Joe Mariscal
(b.1948, San Francisco, Ca, lives in Stockton, Ca)
Mariscal recently retired as a full time art instructor at San Joaquin Delta College in Stockton, Ca. He took his first ceramic class at Delta College where he studied with Bruce Duke ,whose ceramic program produced such notable ceramic artists as Viola Frey, Michael Lucero and Bill Abright. 

Mariscal has taught art in very diverse venues to include , community college, an art program for developmentally disabled adults, a state prison ,the National School for the Arts of Honduras , the National University of Honduras (both in Tegucigalpa), to a workshop in Paraty, Brazil. 

Mariscal has lived in Mexico, has visited Guatemala, Honduras, Brazil, France, Spain, Italy, Japan, Hong Kong and Vietnam (Mariscal served in Vietnam in 1969 and returned to visit in 2015) Mariscal holds a B.A. in Art History from the Universidad de Las Americas in Cholula, Puebla, Mexico and a Master of Arts degree from California State University Sacramento. 

Mariscal's creative work is figurative in nature, derived and inspired from his travels, personal feelings, interactions, reactions and connections to the world and the human condition. 

Mariscal has exhibited professionally since 1974 and his works can be found in numerous private and public collections to include: Rene di Rosa Preserve,Napa, Ca. Mexican Museum, San Francisco Ca. Crocker Museum, Sacramento,Ca. De Saisset, Museum , Santa Clara, Ca. Porter-Price Collection, Columbia, South Carolina Georgia State University, Atlanta, Georgia, Ross Turk, Elkhart, Indiana Sandy Besser, Santa Fe, NM. Barbara Okun, Santa Fe, NM. 

Kelly Foley
Foley went to Far West program High School named Pacific Horizons. Delta College and recreational therapy and dance studies at UOP. Worked at San Joaquin Psych Health facility as rehab asst. in dance, music and art therapy. Worked for 16 yrs. in clinical psychology w/ CONREP and Anka Behavioral as caseworker and shift manager. As a musician, been with the bands Broken Toys, Funky Citizens, Hospital, Toadstool Theatre, Clamtones and several others. Has played the Fillmore,Lollapalooza,Mercury Lounge, toured East and West Coast. In art -scenery backdrops for Delta college theatre, a few album covers for Rough Trade U.S. various art gallery showings across California. Have been the producer for shows by Broken Toys at the Empire 2012, the Ballads at Haggin Museum in Stockton and State Theatre in Modesto.From 2009 to present been working w/ several artists and models on a multi-level art project called, at different phases, Women in Films and A Flaw in the Iris.